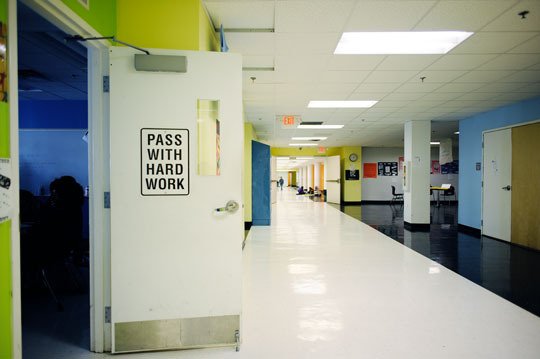 Amanda Millatt stands tall and speaks confidently on the stage of the Musser Demonstration Theater at the Franklin Institute as she presents to a group of classmates, parents and teachers the water pump she has designed. Millatt is a graduating senior at the Science Leadership Academy (SLA), one of three schools that recently received a share of $6 million in grants from Philadelphia School Partnership (PSP). She hopes the pump will one day be implemented in developing countries such as Malawi. It was a trip to Malawi that inspired Millatt to redesign the UNICEF water pumps used there, which she says are fragile and inefficient. Her original idea was a pump powered by kids playing soccer, with gears that would be activated whenever a goal was scored. The finished design is more practical than that early concept and, she believes, more practical than the UNICEF pumps as well.
Millatt describes each component of the design in a way her peers can understand. The handle is an "egg-shaped piece of metal that is used to push down the piston." The piston "is basically a bike pump in reverse so you know how you push out air, it basically sucks up water." Describing the process with ease, Millatt says, "The gear that is on a 45-degree angle is rotating and pushing down the piston, which is basically sucking up the water into the reservoir, and then when you turn it, it comes out the faucet." This is not the high school experience shared by most Philadelphia public school students.
SLA is built upon five core values: inquiry, research, collaboration, presentation and reflection. The school has a saying often repeated throughout the day and the school year: "High school should not just be preparation for real life. High school should be real life." Principal Chris Lehmann describes SLA as an "inquiry-driven, project-based modern school where students tackle real-world problems and work to find real solutions that are applicable to the world we live in."
It turns out it is a model in great demand. Last year, the school conducted more than 1,040 interviews for 125 seats. "We were turning away kids that we knew wanted this kind of education," said Lehmann.
Now, a grant from Public School Partnership will make that opportunity available to more students in the city. In April, PSP announced that it was investing $6 million in grants from its Great Schools Fund to help fund expansions of three alternative Philadelphia public schools. Two of those schools, SLA and the Sustainability Workshop, have an emphasis on sustainability.
SLA will receive $1.9 million over three years to add 500 new seats at a second campus at the current Beeber Middle School in West Philadelphia. "So many kids have told us that they want to learn this way," says Lehmann. "The opportunity to offer a second campus and another 500 kids the ability to do this is just incredibly exciting."
The grants also include $1.5 million over three years to the Sustainability Workshop, a project-based, alternative program for seniors, which will use the grant to expand into a full-fledged high school called the Workshop School. The school's expansion will begin with a larger location at 48th and Hanson Streets in West Philadelphia, beginning with 60 ninth-graders from predominantly low-income communities in the fall. Plans include adding a total of 500 seats and possibly a second location in the future.
A third grant totaling $2.6 million over three years was allotted to Hill Freedman Middle School to add 600 new seats at its 240-seat high school campus. Hill-Freedman operates a unique hybrid model in which 70 percent of students are enrolled in a rigorous International Baccalaureate (IB) program and 30 percent are enrolled in a high school transition program for students with complex needs. IB programs partner schools with governments and international organizations to develop international inquiry-based education plans and a rigorous curriculum assessment.
The grants are helping these schools expand at a time of crippling budget cuts in the School District of Philadelphia, with many schools preparing to operate on skeleton budgets and 23 school buildings permanently closed. The students from those schools will now attend new schools, in some cases where rivalries exist.
In a statement, PSP says it selected the schools "after a thorough due diligence process focused on academic outcomes, leadership quality and capacity for growth." Perhaps most significant is that these schools have demonstrated that their models of education are successful and yield impressive results. SLA, which attracts a diverse range of kids from across the city, boasts a 93-percent graduation rate and an overwhelming majority of students going on to college. Nearly all of the students in this year's program at the Workshop School were also accepted to college.
"I think you saw it tonight, you saw the energy the passion, you saw what an inquiry-based, project-based, modern education can help kids achieve and become," says Lehmann, referring to Millatt and other SLA students' presentations of their capstone projects, the final assignment of their senior year. He stops mid-conversation at the sight of a group of SLA seniors posing for a photograph together at the end of their presentations. "I want a picture of that," he shouts. Throughout the conversation, he never takes his eyes off his students.
The mission of the Workshop School is similar in ways to that of SLA, but with a slightly different focus. "To think that education is one size fits all is ridiculous," says Ann Cohen, who coordinates communications and external partnerships for the Workshop School. "...There is a whole group of people in this world that don't learn particularly well sitting in class and being lectured at. Some do very well and I don't mean to undervalue a traditional education, but there is a whole host of people who get it much more when they can put their hands on the problem they're trying to solve."
The Sustainability Workshop evolved directly out of just such a project — West Philadelphia High School's Hybrid X Team. Under the leadership of Simon Hauger, that after-school program building hybrid cars earned widespread acclaim and won numerous national competitions. Its success inspired Hauger to create the Sustainability Workshop. "The lessons learned in the after-school program translated directly into a full school day program," says Ann Cohen. "Simon learned in running the Hybrid X team that the students not only built a great car, but they learned a lot in the process."
The two classes of seniors at the Workshop School have built on that model. Take for example the innovative hydroponic garden dubbed Greens-In-a-Box. Built by a group of this year's seniors, it earned them bragging rights and a tie in FreshDirect's Inaugural Green Angel Fund Challenge. The students grew six different types of lettuce in a garden inside of a shipping container turned greenhouse, using LED light panels and a nutrient-infused water system. As a result of the tied vote, the Workshop students will travel to San Francisco on an all-expenses-paid trip to attend the National Indoor Gardening Expo.
Another group of Workshop seniors built a project called LandRAFTS, a small, permanent modular home that can be deployed to disaster areas. Originally conceived by a group of students last year, the idea was developed and improved upon by students from this year's class.
"Around the world, 1.6 billion people lack access to adequate housing and over 100 million people are homeless," says Tina Tran reciting her group's pitch. The raft, she says, "provides clean water, off grid power, sanitation, cooking, refrigeration and pre-fabricated building materials to create a small, high-efficient permanent home."
The students participated in the Spirit of Innovation Awards in Houston, Texas earlier in the year — the only public school in competition. They earned a top-five spot in the energy and environment category.
Tran said she and some of her peers previously felt they were taking a risk by coming to the school their senior year. "They took a risk, but it wasn't a bad risk, it was a good risk," says classmate Sagar Patel, who also worked on the LandRAFTS project.
The school featured a class of 28 students its first year and 29 students this past year. All had been recommended to the program by their respective principals at South Philadelphia High School, Horace Furnace High School or Benjamin Franklin High School. "The goal for this upcoming year is to serve the West Philadelphia community," says Cohen, referring to the Workshop School's planned expansion. But more than that, "We hope to demonstrate the power of this kind of project-based learning to serve students of Philadelphia, and to show significant, innovative and effective education can be done in public schools in the city of Philadelphia."
"The sustainability aspect is important to us in that it engages students in learning and helps to prepare them for meaningful success after graduation," says Kristen Forbiger, PSP's communications and public affairs manager. "We believe high-quality schools come in all types, but they share common elements, like great teachers and visionary leaders who believe all students can achieve at high levels. These schools and leaders were selected because they have a track record of preparing students to succeed in college and careers, and they have the capacity to provide that high-quality education to more students."
Millatt's capstone presentation is evidence of that preparedness. As remarkable as her design and mastery of the concepts involved is the ease with which she explains it. "I used to be really quiet and shy, and now I'm outspoken and I'm just out there," Millatt says after the presentation, which took place just a few days after her graduation from the school. "I'm not afraid to be myself because everybody here is not afraid to be themselves."
Millatt looks forward to attending Colby College in Maine this fall. "I really will take away the experience that I had from SLA, and I will bring it there," she says. "Hopefully, I can be an activist like I really want to be."
Story by JULIA BERGMAN