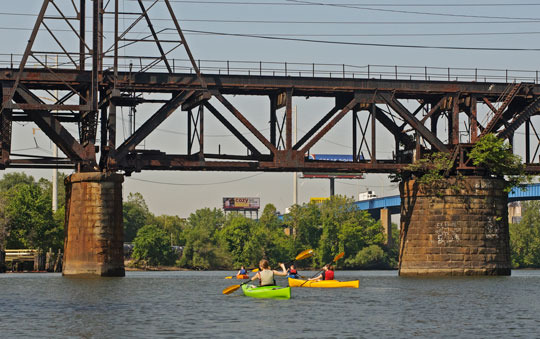 Our rainbow flotilla set off downstream from the Walnut Street dock, each of us in a brightly-colored kayak. I'm not sure four Schuylkill Banks staff were needed to escort photographer Jen Britton and me, but when you get a chance to leave your West Philly office and get on the water for work, you take it.
Next time you see someone with a canoe or a kayak on top of their car heading out of town, keep in mind we have a great river right here. This is not to say that you should never launch out on some scenic upstate waterway, but you can also push off into the current and trail your hand in cool water with a much shorter commute.
I can't promise you an entirely "natural" experience. The tidal Schuylkill has a long history as a working river, and it shows: we passed under bridges young and old, cruised past docks in varying states of decay, and had a hard time finding a bank not held up with concrete or old timbers ('bulkheaded') or otherwise stabilized with rip rap (a layer of stone or concrete intended to prevent erosion).
Not to mention everything we toss in. This includes all sorts of inanimate trash, but also live animals; we saw a lot of turtles, and nearly all of them were species not native to the Schuylkill – either released pets or their descendents. I only saw one of the native red-bellied turtles that would naturally dominate this habitat.
Another day we might have seen a dolphin chasing shad upriver, or maybe otter or beaver, according to Danielle Gray and Josh Nims, the Director of Marketing and Development and Operations Manager, respectively, for the Schuylkill River Development Corporation (SRDC), the entity that operates Schuylkill Banks. Danielle Kreeger, Science Director for the Partnership for the Delaware Estuary, noted that some rare freshwater mussels were recently found by Bartram's Garden.
Fisherman Clifton Savage pulled in a channel catfish from an SRDC-rehabbed pier as we passed by. "It's a healthy river," he proudly stated, "a lot of people don't know that."
A lot of the time, he's right. Lance Butler, Manager for Environmental Restoration Operation and Maintenance at the Philadelphia Water Department, assured us that, "During dry weather, the Schuylkill is clean and consistently meets water quality standards." Rain, however, tends to overwhelm our storm sewer system and flush raw sewage into the river. (See the Soak It Up! insert included in this issue.)
We turned back for Walnut Street at the mouth of Mill Creek, which was capped and turned into a storm sewer in the 19th Century. It now faces the river as a dark, fetid tunnel, big enough to paddle into, though the smell should be enough to warn you away.
As for the river's future, Dr. Kreeger mentioned plans to naturalize more of the banks and restore mussel populations with a hatchery. Global warming will also play a role, as rising seas push salt water up the Delaware Estuary. Kreeger noted that the "salt line" recently pushed up past Wilmington, and is now hovering south of Chester. "The tidal Schuylkill will therefore soon be on the 'front lines' of this change."
Gaining Access to the Schuykill
Contact Schuylkill Banks (215-222-6030 or info@schuylkillbanks.org) to access the Walnut Street Dock or contact Bartram's Garden (215-729-5281 or info@bartramsgarden.org) for access to their dock. To take part in one of Schuylkill Banks' guided tours of the river or for event information, visit schuylkillbanks.org.
Check the Philly Rivercast website (phillyrivercast.org) for water quality info before you head out. Technically the red, yellow, or green water quality ratings refer to waters upstream of the Fairmount Dam, but Butler says it gives a good picture of downstream conditions as well.
Story by Bernard Brown | Photos by Jen Britton