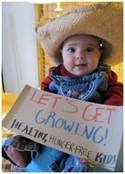 On December 2, the House passed the Healthy, Hunger-Free Kids Act, legislation that will make much needed improvements to federal child nutrition programs. In August, the Senate voted unanimously to pass the bill, and since then food, nutrition, academic, and environmental organizations have been campaigning for the legislation.
Slow Food USA, a tireless proponent of the Act, does a good job of breaking down the changes in nutrition standards the Kids Act will bring about here. A major change will be greater funding for the USDA's Farm to School program—$50 million in mandatory funding for a competitive grant program to be exact.
Other changes include better access to meals for children in high poverty areas, the application of nutrition standards to all food sold in schools, better training for school food service workers, improved food recall procedures and a less complicated system for qualifying low-income students for free and reduced lunch.
Much more information available is here. The Act still needs to be signed by President Obama, and an amendment to bar federal funds from facilities that would hire workers who lie on or refuse sex offender background checks could send the legislation back to the Senate. But chances are good that Obama will give it the go ahead, especially given of Michelle Obama's ardent campaign for childhood nutrition initiatives.